223 Mountbatten Road 01-08
223@Mountbatten, Singapore 398008
HFSE International School has recently expanded its campus to provide an even more enriching and dynamic learning environment for students. The new premise, located at 223 Mountbatten Road in Singapore, offers improved facilities and resources that support the school's commitment to academic excellence and holistic development.
The new centre features modern and spacious classrooms that are equipped with the latest technology to facilitate student learning. The classrooms are designed to be flexible and adaptable, allowing teachers to create a variety of learning environments to suit different learning styles and needs.
The HAPI Hall are placed to provide spacious room for STAR classes, enrichment classes, and various school events.
HFSE International School's new premise is also designed to promote a sense of community and collaboration by housing in all students in one centre. The new premise is a testament to the school's commitment to excellence and its dedication to providing students with the skills and knowledge they need to succeed in an increasingly complex and competitive world.
Classroom No
Floor area (in m2)
Maximum Capacity
Mountbatten Centre: Enrichment and Preparatory Centre
231 Mountbatten Road Block D (2nd level)
Mountbatten Centre, Singapore 397999
Our Enrichment and Preparatory Centre is located within the Mountbatten Centre, a property which houses various commercial schools, preschools, and businesses.
Classroom No
Floor area (in m2)
Maximum Capacity
Common Facilities
Playground
Activity Area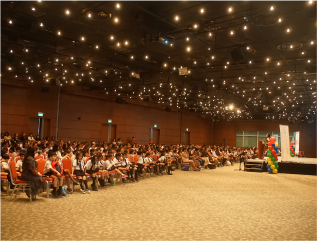 Event Halls
Sports Complex